Posts for: January, 2018
By Wing, Mack, Smith & Bang, DDS
January 26, 2018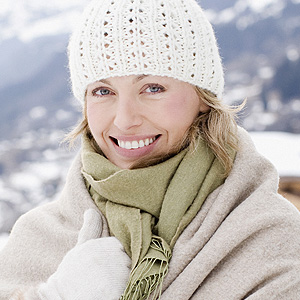 Winter is the time for snowy landscapes, hot cocoa and flannel PJs, but for some 'tis the season for tooth trouble. What can you do to keep your teeth from becoming a pain this winter?
Tackle tooth sensitivity. Does crisp winter air on your teeth give you a jolt? A study published in the Journal of the American Dental Association found that 1 in 8 people (over 12%) suffer from tooth sensitivity, particularly to cold. Sensitivity can result from receding gums, erosion of tooth enamel, tooth decay or other dental problems. If you experience tooth sensitivity, use toothpaste that is specially formulated for sensitive teeth and breathe through your nose to protect your teeth from extreme cold. Most importantly, schedule a dental exam to determine why your teeth are sensitive.
Stay hydrated. In winter, we spend more time with the heat on and we tend to drink less water. A dry mouth can result, which can lead to bad breath, tooth decay and gum disease. Staying well hydrated keeps your gums and teeth moist and helps you produce more saliva, which is key to good oral health and fresh breath. Saliva helps wash away food debris and bacteria, neutralize decay-causing acid and repair weakened tooth enamel. For healthy teeth and gums, be sure to drink plenty of water this winter.
Safeguard your teeth on the slopes. Are you planning to hit the slopes this winter? Be sure to wear a mouthguard to help protect against injury. Beginning skiers and snowboarders are more likely to suffer falls that could result in dental injuries, while experts may fly over bumps and jumps, causing the upper and lower teeth to knock together with force. Even backyard sledders are at risk of dental injury. Mouthguards help protect against chipped, broken, or knocked-out teeth as well as soft tissue damage. So before you enjoy wintertime sports, make sure your teeth are protected. For the best fit and comfort, ask us about a custom mouthguard.
If you have questions about these or other dental issues, please contact us or schedule a consultation. You can learn more in the Dear Doctor magazine articles "Treatment of Tooth Sensitivity" and "Dry Mouth."
By Wing, Mack, Smith & Bang, DDS
January 11, 2018
Everyone has to face the music at some time — even John Lydon, former lead singer of The Sex Pistols, arguably England's best known punk rock band. The 59-year old musician was once better known by his stage name, Johnny Rotten — a brash reference to the visibly degraded state of his teeth. But in the decades since his band broke up, Lydon's lifelong deficiency in dental hygiene had begun to cause him serious problems.
In recent years, Lydon has had several dental surgeries — including one to resolve two serious abscesses in his mouth, which left him with stitches in his gums and a temporary speech impediment. Photos show that he also had missing teeth, which, sources say, he opted to replace with dental implants.
For Lydon (and many others in the same situation) that's likely to be an excellent choice. Dental implants are the gold standard for tooth replacement today, for some very good reasons. The most natural-looking of all tooth replacements, implants also have a higher success rate than any other method: over 95 percent. They can be used to replace one tooth, several teeth, or an entire arch (top or bottom row) of teeth. And with only routine care, they can last for the rest of your life.
Like natural teeth, dental implants get support from the bone in your jaw. The implant itself — a screw-like titanium post — is inserted into the jaw in a minor surgical operation. The lifelike, visible part of the tooth — the crown — is attached to the implant by a sturdy connector called an abutment. In time, the titanium metal of the implant actually becomes fused with the living bone tissue. This not only provides a solid anchorage for the prosthetic, but it also prevents bone loss at the site of the missing tooth — which is something neither bridgework nor dentures can do.
It's true that implants may have a higher initial cost than other tooth replacement methods; in the long run, however, they may prove more economical. Over time, the cost of repeated dental treatments and periodic replacement of shorter-lived tooth restorations (not to mention lost time and discomfort) can easily exceed the expense of implants.
That's a lesson John Lydon has learned. "A lot of ill health came from neglecting my teeth," he told a newspaper reporter. "I felt sick all the time, and I decided to do something about it… I've had all kinds of abscesses, jaw surgery. It costs money and is very painful. So Johnny says: 'Get your brush!'"
We couldn't agree more. But if brushing isn't enough, it may be time to consider dental implants. If you would like more information about dental implants, please call our office to schedule a consultation. You can read more in the Dear Doctor magazine articles "Dental Implants" and "Save a Tooth or Get an Implant?"