Posts for tag: braces
By Wing, Mack, Smith & Bang, DDS
May 28, 2019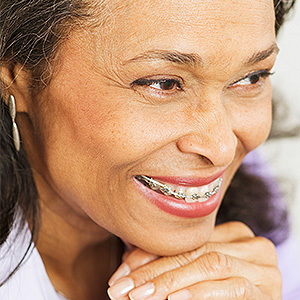 Bite problems are quite common—as many as 75% of adults may have some form of orthodontic issue. Unfortunately, there's also something else just as common: that many people believe they're too old to correct it.
This belief is a myth—while there are factors that could prevent orthodontic treatment, age isn't necessarily one of them. If your teeth, gums and bone are sound and you're in reasonably good general health, you most likely can have a bite problem corrected even beyond middle age.
Why worry about it, though, if you've lived this long with misaligned teeth? For one thing, straightening teeth with braces or clear aligners can boost your dental health. Teeth that are in normal alignment are easier to keep clean of disease-causing bacterial plaque. You'll also find it easier to chew than if your bite is out of line.
A more attractive, straighter smile can also impact your social and professional life. Having a smile you're not embarrassed to show can boost your self-confidence and image. Research on people who've undergone orthodontic treatment in adulthood have found improvements in social connection and even expanded career opportunities.
Orthodontic treatment can make a difference with your health and life, no matter your age. But while the number of years you've lived won't necessarily make a difference, what those years have brought could rule it out.
If, for example, you've lost significant bone structure due to diseases like periodontal (gum) disease, your teeth may not be able to sustain the new position created by braces or aligners without a form of permanent fixation. If you have systemic conditions like severe cardiovascular disease, bleeding problems, leukemia or uncontrolled diabetes, orthodontic treatment could worsen those conditions. And certain prescription drugs may pose similar problems as well.
That's why you'll need to undergo a thorough dental exam, as well as provide a complete medical history to your orthodontist. If nothing prevents you from treatment, though, you may be able to regain a new smile, better health and a new confidence in life.
If you would like more information on adult orthodontics, please contact us or schedule an appointment for a consultation. You can also learn more about this topic by reading the Dear Doctor magazine article "Orthodontics for the Older Adult."
By Wing, Mack, Smith & Bang, DDS
April 08, 2019
Mayim Bialik has spent a good part of her life in front of TV cameras: first as the child star of the hit comedy series Blossom, and more recently as Sheldon Cooper's love interest — a nerdy neuroscientist — on The Big Bang Theory. (In between, she actually earned a PhD in neuroscience from UCLA…but that's another story.) As a child, Bialik had a serious overbite — but with all her time on camera, braces were just not an option.
"I never had braces," she recently told Dear Doctor – Dentistry & Oral Health magazine. "I was on TV at the time, and there weren't a lot of creative solutions for kids who were on TV." Instead, her orthodontist managed to straighten her teeth using retainers and headgear worn only at night.
Today, there are several virtually invisible options available to fix orthodontic issues — and you don't have to be a child star to take advantage of them. In fact, both children and adults can benefit from these unobtrusive appliances.
Tooth colored braces are just like traditional metal braces, with one big difference: The brackets attached to teeth are made from a ceramic material that blends in with the natural color of teeth. All that's visible is the thin archwire that runs horizontally across the teeth — and from a distance it's hard to notice. Celebs like Tom Cruise and Faith Hill opted for this type of appliance.
Clear aligners are custom-made plastic trays that fit over the teeth. Each one, worn for about two weeks, moves the teeth just a bit; after several months, you'll see a big change for the better in your smile. Best of all, clear aligners are virtually impossible to notice while you're wearing them — which you'll need to do for 22 hours each day. But you can remove them to eat, or for special occasions. Zac Efron and Katherine Heigl, among others, chose to wear clear aligners.
Lingual braces really are invisible. That's because they go behind your teeth (on the tongue side), where they can't be seen; otherwise they are similar to traditional metal braces. Lingual braces are placed on teeth differently, and wearing them often takes some getting used to at first. But those trade-offs are worth it for plenty of people. Which celebs wore lingual braces? Rumor has it that the list includes some top models, a well-known pop singer, and at least one British royal.
So what's the best way to straighten your teeth and keep the orthodontic appliances unnoticeable? Just ask us! We'd be happy to help you choose the option that's just right for you. You'll get an individualized evaluation, a solution that fits your lifestyle — and a great-looking smile!
For more information about hard-to-see (or truly invisible) orthodontics, please contact our office or schedule a consultation. You can read more in the Dear Doctor magazine articles "Orthodontics for the Older Adult" and "Clear Aligners for Teenagers."
By Wing, Mack, Smith & Bang, DDS
August 31, 2018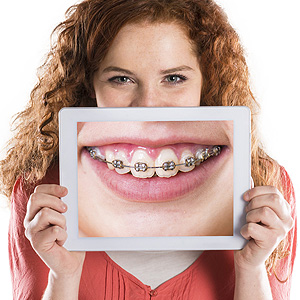 If you or a family member has problems with teeth alignment or your bite, you may be considering braces. This tried and true method can straighten out most smiles — but there's more to braces than you may realize.
For one thing, orthodontic treatment wouldn't work if it weren't for the natural mechanism for tooth movement that already exists in the mouth. It may seem your teeth are rigidly set in the jawbone but that's not how they maintain their attachment: that's the job of an elastic connective tissue known as the periodontal ligament that lies between the tooth and the bone. The ligament has tiny fibers that attach to the tooth on one side and to the bone on the other to actually hold the teeth in place, much like a hammock secured between two posts.
The ligament attachment also allows the teeth to move incrementally in response to environmental factors or the aging process. We harness this natural movement ability with braces to move teeth to a more desirable position. We first attach small brackets to the front crowns of the teeth (the visible portion) and then string arch wires through them. We then attach the wires to anchor points where we can adjust the amount of tension they're exerting through the brackets against the teeth. By gradually increasing that tension, the teeth respond as they would when any force is applied against them and begin to move.
By precisely controlling that movement we can transform a patient's smile. But we believe the advantages are more than cosmetic: the teeth will function better and will be easier to care for and keep clean. These benefits, though, have to be balanced with heightened risks for root resorption (something that occurs only about 10% of the time) in which the ends of the roots can shrink, or loss of mineral content in teeth enamel where the hardware makes it more difficult to remove bacterial plaque. These risks can be reduced by closely monitoring dental health during the entire treatment process and through stepped up efforts in daily oral hygiene.
The starting point for deciding on an orthodontic treatment is a thorough dental examination with x-rays or CT scan imaging. Once we have a complete picture of your misalignment problems and any other extenuating circumstances, we can recommend a treatment plan just for you.
If you would like more information on orthodontic treatment, please contact us or schedule an appointment for a consultation. You can also learn more about this topic by reading the Dear Doctor magazine article "Moving Teeth with Orthodontics."