Posts for tag: gum disease
By Wing, Mack, Smith & Bang, DDS
February 07, 2019
Like other aspects of our lives, aging can take a toll on our smile. Over a lifetime the effects of disease, teeth wearing and the foods we eat can cause our teeth and gums to look unattractive.
Here are 3 of the most common age-related dental problems and how we can help you "turn back the clock" on each one.
Discoloration. Teeth can dull and grow darker over time. And not just from what we eat or drink—age-related structural changes in the tooth can also cause discoloration. We can often alleviate external staining temporarily with teeth whitening. If the staining is heavy or it originates inside the tooth, then we can install life-like porcelain veneers or crowns to cover the discoloration. We can also use composite dental materials to alter the color of one darkened tooth so that it doesn't stand out from the rest of your teeth.
Wearing. Our teeth naturally wear down over time. If the wearing is excessive, though, teeth can look shorter and less youthful. Again, we can use veneers or crowns to change a tooth's outward appearance and make them look longer. We can also employ enamel contouring and reshaping that smoothes out sharper edges caused by wearing to give your teeth a softer, more youthful look.
Receding gums. On the other end of the spectrum, gums that have shrunk back or receded from the teeth can make them look much larger and unattractive. Our first step is to treat any gum disease present—the most common cause of recession—which often helps the tissues to regenerate. If your case is more advanced, though, you may also need grafting surgery to restore lost gum tissue. Using in-depth microsurgical techniques, surgeons attach grafted gum tissue at the recession site. Over time new tissue will grow, restoring adequate gum coverage.
You can also improve your appearance at any age with orthodontics. Besides a more attractive smile, properly aligned teeth tend to wear more slowly and evenly. This and proper daily oral hygiene and regular dental care can keep your teeth looking younger even in your later years.
If you would like more information on gaining a more youthful smile, please contact us or schedule an appointment for a consultation. You can also learn more about this topic by reading the Dear Doctor magazine article "How Your Dentist can help you Look Younger."
By Wing, Mack, Smith & Bang, DDS
November 09, 2018
Cardiovascular disease and periodontal (gum) disease are two different conditions with their own set of symptoms and outcomes. But they do share one common element: inflammation. In fact, this otherwise normal defensive response of the body might actually create a link between them.
When tissues become damaged from disease or injury, the body triggers inflammation to isolate them from the rest of the body. This allows these tissues to heal without affecting other tissues. If inflammation becomes chronic, however, it can damage rather than protect the body.
This happens with both cardiovascular disease and gum disease. In the former, low-density lipoproteins (LDL or "bad cholesterol") in animal fat leave behind remnants that can build up within arteries. This stimulates inflammation of the vessel's inner linings, which accelerates hardening and increases the risk of heart attack or stroke.
With gum disease, bacteria living in a thin, built-up film of food particles on the teeth called plaque infect the gum tissues, which in turn trigger inflammation. A struggle ensures between the infection and inflammation, causing the gum tissues to weaken and detach from the teeth. Coupled with erosion of the supporting bone, the risk of tooth loss dramatically increases.
Recent research now seems to indicate the inflammatory responses from these two diseases may not occur in isolation. There is evidence that gum inflammation could aggravate inflammation in the cardiovascular system, and vice-versa. The research, though, points to some possible good news: treating inflammation in either disease could have a positive effect on the other.
Making heart-friendly lifestyle changes like losing extra weight (especially around the waist), improving nutrition, and exercising regularly can help reduce LDL and lower the risk of arterial inflammation. Likewise for your gums, daily oral hygiene and visiting the dentist at least twice a year reduces the risk for gum disease. And at the first sign of a gum infection—swollen, reddened or bleeding gums—seeking immediate treatment will stop it and reduce any occurring inflammation.
Taking steps to prevent or reduce inflammation brought on by both of these diseases could improve your health and save your life.
If you would like more information on how your oral health affects your whole body, please contact us or schedule an appointment for a consultation. You can also learn more about this topic by reading the Dear Doctor magazine article "The Link between Heart & Gum Disease."
By Wing, Mack, Smith & Bang, DDS
February 10, 2018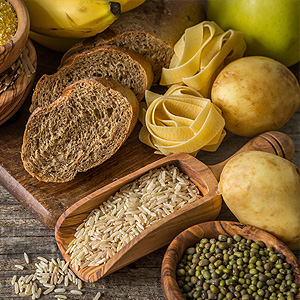 If you've had issues with periodontal (gum) disease, no doubt a few things have changed for you. You may be seeing us for dental cleanings and checkups more frequently and you have to be extra diligent about your daily brushing and flossing.
There's one other thing you may need to do: change your diet. Some of the foods you may be eating could work against you in your fight against gum disease. At the same time, increasing your intake of certain foods could boost your overall oral health.
The biggest culprits in the first category are carbohydrates, which make up almost half the average diet in the Western world, mainly as added sugar. Although carbohydrates help fuel the body, too much can increase inflammation—which also happens to be a primary cause of tissue damage related to gum disease.
Of course, we can't paint too broad a brush because not all carbohydrates have the same effect on the body. Carbohydrates like sugar or processed items like bakery goods, white rice or mashed potatoes quickly convert to glucose (the actual sugar used by the body for energy) in the bloodstream and increase insulin levels, which can then lead to chronic inflammation. Complex or unprocessed carbohydrates like vegetables, nuts or whole grains take longer to digest and so convert to glucose slowly—a process which can actually hinder inflammation.  
Eating less of the higher glycemic (the rate of glucose conversion entering the bloodstream) carbohydrates and more low glycemic foods will help reduce inflammation. And that's good news for your gums. You should also add foods rich in vitamins C and D (cheese and other dairy products, for instance) and antioxidants to further protect your oral health.
Studies have shown that changing to a low-carbohydrate, anti-inflammatory diet can significantly reduce chronic inflammation in the body and improve gum health. Coupled with your other efforts at prevention, a better diet can go a long way in keeping gum disease at bay.
If you would like more information on the role of diet in dental health, please contact us or schedule an appointment for a consultation. You can also learn more about this topic by reading the Dear Doctor magazine article "Carbohydrates Linked to Gum Disease."