Posts for tag: pediatric dentistry
By Wing, Mack, Smith & Bang, DDS
November 19, 2018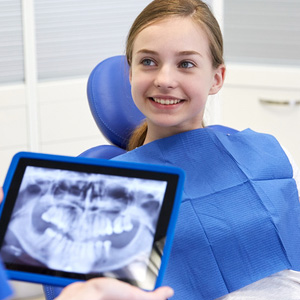 When it comes to our children's safety, there isn't much nowadays that isn't under scrutiny. Whether food, clothing, toys and more, we ask the same question: can it be harmful to children?
That also includes tried and true healthcare practices. One in particular, the routine x-ray, has been an integral part of dental care for nearly a century. As a means for detecting tooth decay much earlier than by sight, it has without a doubt helped save billions of teeth.
But is it safe for children? The reason to ask is because x-rays are an invisible form of electromagnetic radiation that can penetrate human tissue. As with other forms of radiation, elevated or frequent exposure to x-rays could damage tissue and increase the future risk of cancer.
But while there is potential for harm, dentists take great care to never expose patients, especially children, to that level or frequency of radiation. They incorporate a number of safeguards based on a principle followed by all healthcare professionals in regard to x-rays called ALARA, an acronym for "as low as reasonably achievable." This means dentists and physicians use as low an exposure of x-ray energy as is needed to achieve a reasonable beneficial outcome. In dentistry, that's identifying and treating tooth decay.
X-ray equipment advances are a good example of ALARA in action. Digital imaging, which has largely replaced film, requires less x-ray radiation for the same results than its older counterpart. Camera equipment has also become more efficient, with modern units containing lower settings for children to ensure the proper amount of exposure.
Dentists are also careful how often they take x-ray images with their patients, only doing so when absolutely necessary. As a result, dental patients by and large experience lower dosages of x-ray radiation in a year than they receive from natural radiation background sources found every day in the environment.
Dentists are committed to using x-ray technology in as safe and beneficial a way as possible. Still, if you have concerns please feel free to discuss it further with your dental provider. Both of you have the same goal—that your children have both healthy mouths and healthy bodies for the rest of their lives.
If you would like more information on x-ray safety for children, please contact us or schedule an appointment for a consultation. You can also learn more about this topic by reading the Dear Doctor magazine article "X-Ray Safety for Children."
By Wing, Mack, Smith & Bang, DDS
September 10, 2018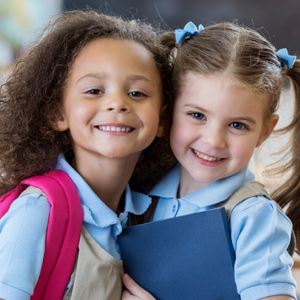 Back-to-school season can be an exciting time for kids—and parents too! As summer starts giving way to fall, your to-do list begins to fill up: there are clothes to buy, supplies to gather, and get-togethers with friends both old and new. Here are a few do's (and don'ts) that can help keep your kids oral health in tip-top shape through this busy season…and all year long.
Do pack kids a healthy lunch
In addition to a protein like lean meat, eggs or peanut butter, a healthy lunch may include crunchy vegetables such as carrot or celery sticks, dairy like cheese or yogurt, and fresh fruits. Add a bottle of water and your kids will be all set to go!
Don't include soda or sugary snacks
Foods with a lot of sugar—like soda, processed foods and sweet treats—aren't a healthy choice. In addition to promoting obesity, sugar provides food for the harmful oral bacteria that can cause cavities. Even 100% juices have loads of sugar—so go easy on the sweets for better checkups!
Do be sure kids brush and floss regularly
That means brushing twice a day with fluoride toothpaste, and flossing once a day—every day! Brushing and flossing daily is the most effective way to fight cavities at home. If your kids need help, take time to show them how…and if you need to "brush up" on the proper techniques yourself, just ask us to demonstrate.
Don't let kids chew on pencils or fingernails
Fidgety kids often develop habits like these to help themselves feel calmer. But chewing on things that don't belong in the mouth is a recipe for dental problems—like chipped or broken teeth. Try giving them sugarless gum instead; if the problem persists, ask us for help.
Do ask about a mouthguard if they play sports
It's not just for football or hockey—baseball, basketball and many other schoolyard sports have the potential to damage teeth and gums. A custom-made mouthguard from our office is comfortable enough to wear every day, and offers superior protection.
Don't forget to schedule routine dental visits
With the hustle and bustle of a new school year it's easy to let things slide. But don't put off your kids' regular dental checkups! Professional cleanings and dental exams can help keep those young smiles bright, and prevent little problems from getting bigger.
If you would like more information about children's oral health, please contact us or schedule an appointment.
By Wing, Mack, Smith & Bang, DDS
August 01, 2018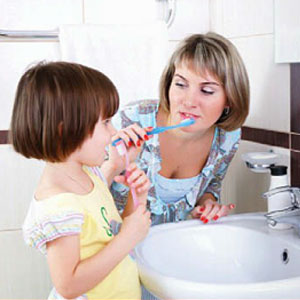 Proactive dental care is an essential part of childhood growth. But that care can be much harder for children with chronic health issues than for healthier children.
"Chronic condition" is an umbrella term for any permanent and ongoing health issue. Asthma, Down's syndrome, cystic fibrosis, congenital heart defects and many others fall under this umbrella, with varying symptoms and degrees of intensity. But they all have one common characteristic — a long-term effect on all aspects of a child's health.
That includes the health of a child's teeth and gums. Here, then, are a few areas where a chronic health condition could impact dental care and treatment.
Ineffective oral hygiene. Some chronic conditions like autism or hyperactivity disorder (ADHD) that affect behavior or cognitive skills can decrease a child's ability or willingness to brush or floss; some conditions may also limit their physical ability to perform these tasks. Parents and caregivers may need to seek out tailored training for their child's needs, or assist them on a regular basis.
Developmental defects. Children with chronic conditions are also more likely to have other developmental problems. For example, a child with Down, Treacher-Collins or Turner syndromes may be more likely to develop a birth defect called enamel hypoplasia in which not enough tooth enamel develops. Children with this defect must be monitored more closely and frequently for tooth decay.
Special diets and medications. A child with a chronic condition may need to eat different foods at different times as part of their treatment. But different dietary patterns like nutritional shakes or more frequent feedings to boost caloric intake can increase risk for tooth decay. Likewise, children on certain medications may develop lower saliva flow, leading to higher chance of disease. You'll need to be more alert to the signs of tooth decay if your child is on such a diet or on certain medications, and they may need to see the dentist more often.
While many chronic conditions raise the risk of dental disease, that outcome isn't inevitable. Working with your dentist and remaining vigilant with good hygiene practices, your special needs child can develop and maintain healthy teeth and gums.
If you would like more information on dental care for children with chronic health conditions, please contact us or schedule an appointment for a consultation. You can also learn more about this topic by reading the Dear Doctor magazine article "Managing Tooth Decay in Children with Chronic Diseases."