Posts for tag: tooth decay
By Wing, Mack, Smith & Bang, DDS
August 26, 2019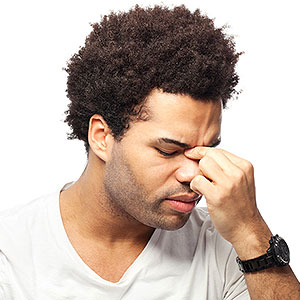 If you suffer frequent sinus infections, you might want to talk with your dentist about it. It could be your chronic sinus problems stem from a deeply decayed or infected tooth.
Sinuses are hollow, air-filled spaces in the front of the skull associated with nasal passages. The largest, the maxillary sinuses, are located just behind the cheekbones and above and to the rear of the upper jaw on either side of the face. These sinuses can become painfully congested when infected.
One possible cause for an infection in the maxillary sinus can occur in certain people whose upper back teeth (the molars and premolars) have roots that are close to or even protrude into the sinus. This is normally a minor anatomical feature, unless such a tooth becomes infected.
An infection in teeth with advancing decay or whose nerve tissue has died will eventually reach the root tip through tiny passageways called root canals. If the roots are close to or penetrating the maxillary sinus, the infection could move into the sinus. This is known as Maxillary Sinusitis of Endodontic Origin (MSEO).
A case of MSEO could potentially go on for years with occasional flare-ups of sinus congestion or post-nasal drip. Because of the nature of the infection within the sinus, the affected tooth itself may not show the normal signs of infection like sensitivity or pain. Doctors may attempt to treat the sinus infection with antibiotics, but because the actual source of the infection is within the tooth, this therapy is often ineffective.
If your doctor or dentist suspects MSEO, they may refer you to an endodontist, a specialist in root canals and interior tooth problems. With their advanced diagnostic capabilities, endodontists may have a better chance of accurately diagnosing and locating the source of a tooth-related infection.
As with any non-vital tooth, the likely treatment will be root canal therapy in which the infected tissue within the tooth is removed and the empty spaces filled to prevent future infection. For MSEO, the treatment not only preserves the tooth but may also relieve the infection within the sinus.
If you would like more information on the possible dental causes to sinus problems, please contact us or schedule an appointment for a consultation.
By Wing, Mack, Smith & Bang, DDS
August 16, 2019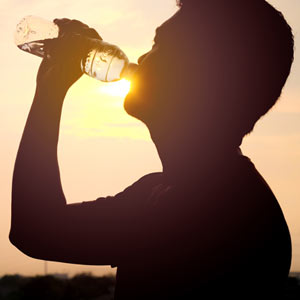 In many parts of the country, summer is often a synonym for "blast furnace" and can be downright hot and miserable. If you find yourself in such a climate, it's imperative that you drink plenty of water to beat both the heat and heat-related injuries. Your teeth and gums are another reason to keep hydrated during those hot summer months.
Your body needs water to produce all that saliva swishing around in your mouth. When you have less water available in your system, the production of this important bodily fluid can go down—and this can increase your risk of dental disease. That's because saliva performs a number of tasks that enhance dental health. It helps rinse the mouth of excess food particles after eating that could become a prime food source for disease-causing bacteria. It also contains antibodies that serve as the first line of defense against harmful microorganisms entering through the mouth.
Perhaps saliva's most important role, though, is protecting and strengthening enamel, the teeth's outer "armor" against disease. Although the strongest substance in the body, enamel has one principal foe: oral acid. If the mouth's normally neutral pH becomes too acidic, the minerals in enamel begin to soften and dissolve. In response, saliva neutralizes acid and re-mineralizes softened enamel.
Without a healthy salivary flow protecting the mouth in these different ways, the teeth and gums are vulnerable to assault from bacteria and acid. As they gain the upper hand, the risk for tooth decay or periodontal (gum) disease can skyrocket. Keeping yourself adequately hydrated ensures your body can produce an ample flow of saliva.
By the way, summer heat isn't the only cause for reduced saliva: Certain prescription medications may also interfere with its production. Chemotherapy and radiation, if targeting cancer near the head or neck, can damage salivary glands and impact flow as well.
If you have reduced saliva from medication you're taking, talk to your doctor about switching to an alternative prescription that doesn't affect saliva production. If you're undergoing cancer treatment, be extra vigilant about your oral hygiene practice and regular dental visits. And as with summer heat, be sure you're drinking plenty of water to help offset these other effects.
Even when it's hot, summertime should be a time for fun and relaxation. Don't let the heat ruin it—for your health or your smile.
If you would like more information about the oral health benefits of saliva and how to protect it, please contact us or schedule an appointment for a consultation.